1 results - showing 1 - 1
Paper Piecing Sampler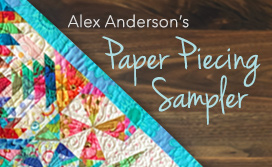 Paper Piecing Sampler
Foundation Paper Piecing - Love it or hate it? With Alex's help, you'll learn to love this piecing method which you can add to your quilter's toolbelt.
In this class you will learn the value of Foundation Paper Piecing (FPP). Alex will be working with classic quilt blocks that lend themselves to FPP in this fun and easy sampler quilt. The blocks will be presented in order of difficulty. By the end you will have a deep understanding of the process AND create a fresh and fun wall hanging.
IF you are already a paper piecing lover, you will have a ball putting this sweet sampler together.
This class was originally created during multiple Facebook LIVE sessions. These are recordings of those sessions.
Alex LIVE | Alex Anderson LIVE | Facebook LIVE | Paper Piecing Sampler