1 results - showing 1 - 1
Birdhouse Quilt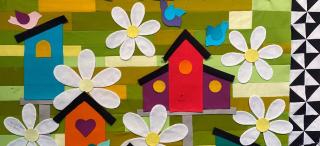 Birdhouse Quilt
Springtime
is around the corner
! If you are slogging through the winter blahs and chill, what better way to escape them than a fanciful flight with a harbinger of spring? This adorable birdhouse scene is yours to build, decorate and accessorize. In this class you will learn several different appliqué tips, tricks and techniques (including both finished and fused appliqué), to create amazing stems, curves, circles, and so much more!
This is a fun and relaxing way to nurture a passion for appliqué. And what fantastic results! You'll love the finished piece, which will brighten your wall and your world.
This class was originally created during multiple Facebook LIVE sessions. These are recordings of those sessions.