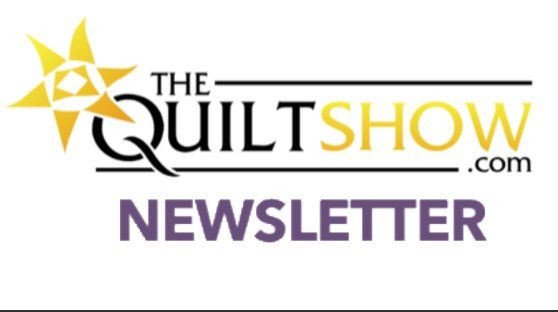 The Quilt Show Newsletter - May 9, 2022
Playful Pup Makes Award-Winning Work, Cute Characters with Olesya Lebedenko, Guo Pei: Embroidered Dreams, Neutral Blooms Lesson 6, New Bundles in Store, Memory Match, Steampunk Puzzle
Featured Quilt - Playful Pup - Awarding Winning Work
Eat Your Veggies

by Pauline Salzman won

Second Place

in

Small Pictorial Wall Quilts

at the AQS show in Paducah 2022. It is a typically adorable dog quilt from Pauline, who thanks
Mindy Wilson
for the photo. You might just recognize this playful pup with a mouthful of carrots in your own home.
Watch a Show with a Lot of Character(s)

Join in the Fun with Olesya Lebedenko
If you think being a quilter builds character, wait till you meet our next guest.
Olesya Lebedenko
has come to The Quilt Show all the way from Ukraine, by way of Canada, and she is indeed building characters, really sweet, happy little characters. Olesya has a passion for small projects you can finish quickly and can feel both pride and joy in. Learn her intriguing paperless piecing technique
, or
how about creating a fox zipper key holder for a friend. We're creating a lot of fun with Olesya and we think you'll be inspired too!
Learn from

Olesya in

Paperless Piecing with Character and 3-Dimensional Animals with Olesya Lebedenko

.
Alex LIVE: Neutral Blooms Lesson 6
Why Does Alex Prefer the Apliquick Method of Appliqué?
It's time to prepare the flowers for Neutral Blooms. This is finished appliqué and Alex likes to use the Apliquick Method. This way she doesn't burn her fingers with the iron or get sticky fingers from glue. Alex used to like the starch method, but has changed over to using the Apliquick tools. Find out why.

Alex is
LIVE
TODAY
Monday, May 9, 2022 @ 10am PST, 1pm EST, and 6pm London time. All classes are recorded so they can be viewed later.
Guo Pei:

Embroidered Dreams
Learn More About this Fascinating Designer


"Through flashbacks, evocative imagery, and narration by Guo Pei, this film tells the designer's story in her own words—from growing up during China's Cultural Revolution and dreaming of beautifully embroidered dresses to presenting her designs on runways across the globe. An interview with curator Jill D'Alessandro takes you inside the "Guo Pei: Couture Fantasy" exhibition at the Legion of Honor for a closer look at Guo Pei's extraordinary designs and the impact she's had on the fashion world. "Guo Pei: Embroidered Dreams" is produced in collaboration with the designer, Fine Arts Museums of San Francisco, award-winning director Kargo Chen, and NOWNESS." -

Legion of Honor
In The Store - New from Art Gallery Fabrics
Periwinkle Fat Quarter Bundle

This

fun collection features sunglasses, shoes, and flowers in pinks, oranges, soft blue and navy, and is perfect for a summer vacation quilt.
Jinny Beyer's Memory Match Game
What goes great with a bowl of cereal in the Morning? Playing

Jinny Beyer's Memory Match Game

while you eat it! Each block is as vibrant and colorful as the day Jinny made them. Can you give a name to each one?
The Quilt Show Puzzle: Channeling Your Inner "Punk"
There are no comments posted here yet
Please login to leave a comment.
By accepting you will be accessing a service provided by a third-party external to https://thequiltshow.com/