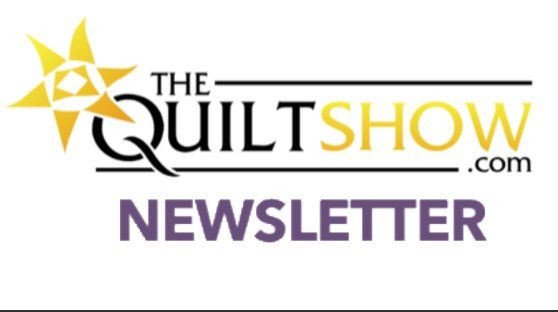 The Quilt Show Newsletter - May 29, 2022
A Sunny Winner From Paducah, Alex's Show Recommendations, Michael C. Thorpe - Quilter and Basketball Player, QSOS with Alex Anderson, Scrappy Anvil Kit, A Face Full of Puzzle
Sunday Smiles - May 29, 2022
Featured Quilt - "Let The Sunshine In"


Into The Sunshine

won

First Place - Wall Quilts: Movable Machine Quilted

(Sponsored by Juki America, Inc.)

at

AQS Quiltweek 2022

in Paducah.
The quilt

is based on a Pearl Pereira pattern and features raw edge appliqué with a blanket stitch around the edge. Patricia is no speed demon when it comes to the machine appliqué though, taking it nice and slow to get that precise and elegant look.
Alex's Show Recommendations for the Weekend
A Curated Show List To Watch This Holiday Weekend

There are close to 400 episodes of The Quilt Show, and for some that number makes it hard to decide where to start watching. But Alex has a list of shows to start your quilting binge with ease with some her favorites. Our current show with

Libby Williamson

is an excellent start, and the rest of the shows on the list are related and will help you learn a lot about the evolution of the art of quilting.
Michael C. Thorpe, Quilt Artist and Basketball Player
College Basketball Star Now Making Moves in the Art World
Due to a delay in game, or maybe a leak in the roof, Alex was unable to play this video this video of college basketball player turned quilter Michael C. Thorpe that she loved so much. Well, now we have the video for you to view directly. Enjoy!
Quilters' Save Our Stories with Alex Andeson
It's Time For Alex To Share Her Story



That's right, our very own Alex Anderson has participated in the

Quilter's Save Our Stories

(QSOS) program and talked about her history of being a quilter, along with sharing the story of her quilt

Mud

, all in front of a live audience at the Houston International Quilt Festival in 2011.
In The Store -

Scrappy Anvil Kit Featuring Petite Perennials by Annette Plog
A Vintage Quilt Is Given New Life
Replicate a gorgeous classic vintage quilt with this beautiful fabric and pattern from Annette Plog.
Half square triangles, Flying Geese, and Pinwheel units make up this gorgeous

Scrappy Anvil

vintage replica quilt, which finishes
57" x 69".
The Quilt Show Puzzle: A Sight For Sore Eyes
"

Lillian

"
by Libby Williamson
Lillian
is the centerpiece and one of the main inspirations for Libby's Wonky Sisters class. Wonky Sisters is a class that allows you to create an art piece that doesn't have to be spot-on and anatomically correct. It's all about accentuating the "quirks" that you want to bring out in your piece, enlarged eyebrows, mismatched eyes, different colored hair, and so on.
Lillian
herself is a really sassy and spunky girl who gets around and has been in a lot of
"compromising"
positions, like a police car in Central Park, the cockpit of a Southwest plane, and even a picnic with seagulls on the coast of the Pacific Ocean.
See more of Libby's quilts in
How to Use Fabric Panels, Create Wonky Fabric Portraits, and Make One-of-a-Kind Rope Quilts with Libby Williamson

.
Take The Plunge





Whether you have been a fan for the last fifteen years or you're a newbie, there is always something fresh and exciting to find at The Quilt Show. From a new show every two weeks, to an exclusive Block Of the Month pattern each year, and too much more to list, your days will be filled with endless excitement right here at The Quilt Show!
By accepting you will be accessing a service provided by a third-party external to https://thequiltshow.com/