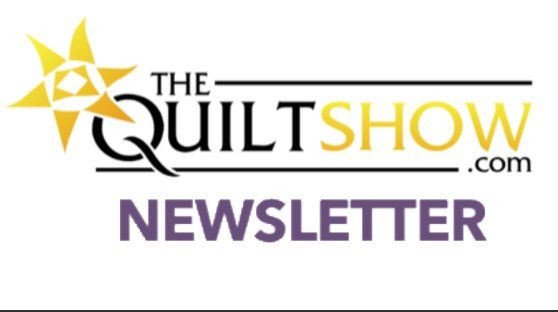 The Quilt Show Newsletter - May 27, 2022
An Elegant Emerald Quilt, And the Kitten's Name is..., The Sewing Machine Project Gives Back, Meet Michael Thorpe, Color My Quilt Class 11, Behold The Quilt Shop Cuckoo Clock, New Laurel Burch Fabric, A Leafy Puzzle
Weekend Fun - May 27, 2022
Featured Quilt - Maybe A Green Ribbon Instead of Blue
Kumiko Frydl

, the Master of the Miniature Quilt, has done it again and taken home another award for her miniature work. Her quilt,
Emerald Labyrinth

, won

First Place - Miniature Quilts

(s

ponsored by Quilters Select by Alex Anderson and RNK Distributing)

at

AQS Quiltweek 2022

in Paducah. This isn't the first ribbon to adorn this quilt though, as it also won
Best Machine Stationary Quilting

at

Road to California 2022

and

First Place - Miniature Quilts

at

Houston 2021

. Click through to see this marvelous mini work and learn the inspiration for the quilt as well.

And don't miss out on Kumiko in action and see more of her miniature quilts in our show,
How to Do Shadow Trapunto and Micro Stippling with Kumiko Frydl | How to Enhance Quilting Stencils with Alex Anderson

.
And the Kitten's Name is...
Time To Get a Name Tag
We asked the viewers to help us name the new kitten. Joyce Cates came up with the answer...
The Sewing Machine Project Provides Free Sewing Machines to Stitch Lives Back Together
Making A Difference One Machine at a Time



We previously featured a segment on

The Sewing Machine Project

, the wonderful organization that helps provide sewing machines and sewing tools to help create partnerships, strengthen community, and nurture the creative spirit in the world of sewing. Now, you can watch this video of Sewing Machine Project founder

Margaret Jankowski

and see how this great organization is making a difference.
Alex LIVE: Michael Thorpe, Quilt Artist
Alex Loves the Story of Michael Thorpe
Michael grew up around quilters but basketball was his passion. He started playing around with photography and eventually took pictures that he used to start making quilts. His first quilt was a self-portrait. Michael believes that knowing,

"What to highlight and where to highlight it"

is an important part of creating a stunning quilt. Learn about

Michael Thorpe

.
Alex is
LIVE
TODAY
, May 27, 2022 @ 10am PST, 1pm EST, and 6pm London time. All classes are recorded so they can be viewed later.
Dee LIVE:

Color My Quilt

- Class 11
Adding Sashing To Your Quilt

Have you started

Dee Christopher's

hands-on class where you practice color theory by creating quilt blocks yet? It's never too late as all the classes are available for viewing at your leisure. Plus, when the class is finished, you will be able to take those blocks and turn them into a quilt! This week, Dee discusses adding sashing to your quilt.
Dee will be LIVE

TOMORROW

, May 28, 2022 @ 10am PST, 1pm EST, and 6pm London time. All classes are recorded so they can be viewed later.
Behold The Quilt Shop Cuckoo Clock
It's About Time



Most quilters have probably been to a quilt shop at least once in their quilting careers, but they probably haven't visited one like this (and not just because they can't fit into it). Jodie Davis is both a quilt lover AND a cuckoo clock lover and wanted to combine her passions, which resulted in the Quilt Shop Cuckoo Clock.
New In The Store from Laurel Burch
Fiesta Horses Precuts from Laurel Burch

This wonderful fabric with an artistic horse theme by Laurel Burch for Clothworks features colorful horses, artistic flowers, and beautiful geometric stripes and swirls.

The Quilt Show Puzzle: Let The Leaves Do The Talking
By accepting you will be accessing a service provided by a third-party external to https://thequiltshow.com/