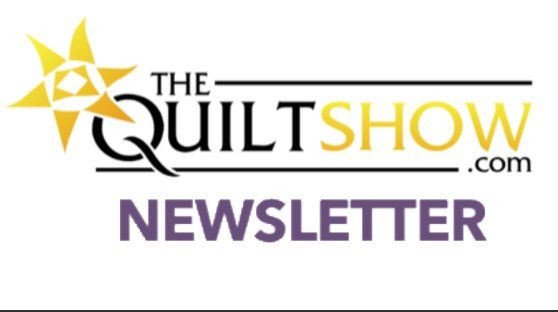 The Quilt Show Newsletter - May 11, 2022
A Barnstormer Of A Quilt, Olesya Lebedenko's "Heartwarming" Show, Alex Answers Questions, Quilters Using "Banned Substances", Garden Gloss in the Store, 600 Hours to Make
Welcome to Wednesday - May 11, 2022
Featured Quilt - By The Barn's Early Light
Ohio Barn in Early Morning Light

by LeAnn Hileman won the

AccuQuilt Best Wall Quilt Award

at

AQS Quiltweek Paducah 2022

.
LeAnn
says of her quilt
,
"Light and shadow fascinate me. I saw this barn early one morning while traveling in Ohio and returned the following morning to see a grand demonstration of it. This quilt is the result."
LeAnn used
hand appliqué

and

machine quilting
to capture the grandeur and majesty of the barn overlooking the hillside. LeAnn's quilt also took home the

Best Hand Workmanship – Innovative

award at the

2021 Mid-Atlantic Quilt Festival

.
Watch

Olesya Lebedenko's

"H
eartwarming"

Show
Fill Your Head with Knowledge and Your Heart with Joy



It's only been a few days since it debuted, but our latest show with
Olesya Lebedenko

is already a hit with our viewers. Read what they have to say about the newest Quilt Show:

"
Thank you for bringing us a most wonderful informative and heartwarming show with Olesya.. Praying for Ukraine. The foxes are on my to do list. God Bless."

-

Joanne K



Learn from
Olesya by watching

Paperless Piecing with Character and 3-Dimensional Animals with Olesya Lebedenko

.
Alex LIVE: Alex Answers Viewer Questions
You've Got Questions, She Has Answers
Quilting questions...Traveling as a quilt teacher questions...paper piecing questions...how to use fusible questions... Come join Alex as she answers your questions. It's going to be fun and she will ask you questions too!
Alex is
LIVE
TODAY
Wednesday, May 11, 2022 @ 10am PST, 1pm EST, and 6pm London time. All classes are recorded so they can be viewed later.
Quilters Using "Banned Substances"
How Do You Feel About What Materials Are Used?
Ricky Tims

, who was a judge at

AQS Quiltweek 2022

in Paducah, went out onto the floor to seek the opinion of quilters and find out how they feel about the use of "banned substances" in quilt competitions. The Quilt Show would like to thank all of the gracious participants for their time in taking part in this survey.
New In The Store

-

Introducing Garden Gloss from Wishwell for Robert Kaufman
Watch Your Garden Grow With These Fabrics


This playful collection of watercolor graphic prints features bold florals, stripes, stars dots, and more and would make a wonderfully cheerful quilt!
Available in multiple pre-cut sizes and

108 Inch Wide Fabric

for the back of your quilt.
The Quilt Show Puzzle: A Journey to the Past
"

Longing for the Past"

by Nancy Prince

In Longing for the Past (51" x 31), Nancy says that thread is the tie that binds this quilt together. Approximately 12,000 yards of thread, over 100 thread colors, and close to 3 million stitches are intertwined throughout the thread-painted designs. No embroidery cards were used. Hand-painted fabric was used for the background and painted quilt bias binding created each individual board of siding on the house and church. Longing for the Past is a step back into a seemingly simpler moment in time.



Nancy shares a great story about standing near it at a show and overhearing a man who, after reading that the quilt took over 600 hours, said to his wife, "That woman's got way too much time on her hands."

See more of Nancy's quilts in
How to Do Thread Painting with Nancy Prince

.
By accepting you will be accessing a service provided by a third-party external to https://thequiltshow.com/