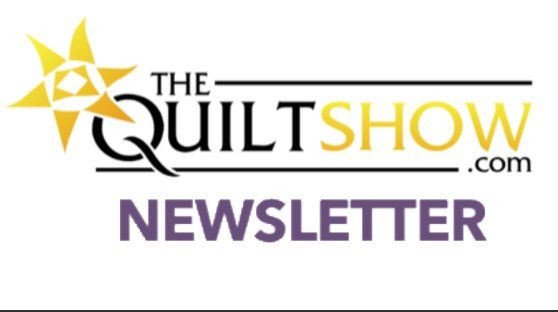 The Quilt Show Newsletter - June 13, 2022
See the Great Quilting Choices in this Award Winning Quilt, We Love Linda Sullivan, Neutrals Quilt Class 10, Custom Quilting with Decorative Stitches, Century Black and White Fabrics, Name that Quilt Block, A "Lucky LeMoyne" Puzzle
Newsletter - June 13, 2022
Featured Quilt - See Her Great Quilting Choices
Urban Living

by Claudia Scheja won

Second Place -

Small Wall Quilts: Movable Machine Quilted

(Sponsored by Pro-Stitcher) at

AQS Quiltweek 2022

in Paducah and
Third Prize

at the

Noord Groningen Online Quilt Festival

in 2021. Claudia says of her inspiration for the quilt, "

Sometimes I go for a walk through the streets of a town, pondering people's lives behind the windows, their sorrows and joys, laughter and tears... how many amazing stories life writes here day by day."
We Love Linda Sullivan! And You Do Too!
When we first met

Linda Sullivan

we knew right off that her show was going to be a great one, and our members seem to agree. Hear what they have to say about our colorific new show:



"Terrific show !!"

-

Joanne Knapp





"
Loved it— now to play with my machine!"

-

Jackie Matsumura





"
This was a great show with a lot of information!"

-

Eileen Keane



Learn from Linda right here on The Quilt Show by watching her in
How to Do Wonky Piecing and Easy Machine Appliqué with Linda Sullivan

.
Alex LIVE: Neutrals Quilt Class 10
Alex's Thoughts on Basting
Alex gives you ideas on basting a quilt. She will talk about several basting approaches and will include a demo using Free Fuse Basting powder.
Alex is
LIVE

TODAY
Monday, June 13, 2022 @ 10am PST, 1pm EST, and 6pm London time. All classes are recorded so they can be viewed later.
WeAllSew Tutorial:

Custom Quilting with Decorative Stitches
Decorative Stitch Decision Making

One of the last things to do when making a quilt is often the thing that quilters struggle with, the quilting itself. Usually this trouble arises from actually deciding what you want the quilting to be. But never fear, some of the latest and greatest sewing machines have decorative stitches already programmed into them, and

Hayley Grzych

at

WeAllSew

has a webinar to show you just how to utilize those stitches.
Century Black & White Fabrics from Andover Fabrics by the Yard
Bold Black and White




These bold black and white fabrics are great and versatile supporting characters in any quilt, or you can make a quilt using them alone and make them the star!

Check them out in the store.
Jinny Beyer's Memory Match Game
Have you experienced the joy of finishing a whole

Jinny Beyer Memory Match

? Well, even if you have you can always do another one to feel that joy again.
The Quilt Show Puzzle: Star Light, Star Bright
By accepting you will be accessing a service provided by a third-party external to https://thequiltshow.com/