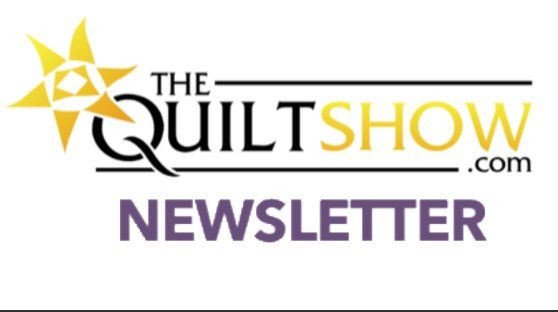 The Quilt Show Newsletter January 19, 2022
Unusual Fabrics & Textures, What is a Bird Box Collage?, Learn 3 Blanket Stitch Variations, Fun Idea: Put a Label on the Binding, Dresden Plate Appliqué Rulers, A Yellow Puzzle
Welcome to Wednesday - January 19, 2021
Watch Lisa Thorpe Build a Bird Box (Collage, That Is)
Be Inspired To Create Your Own Collage
Lisa Thorpe

demonstrates for Ricky how to use the

Waterlogue app

to soften the image of a bird and places it onto the collaged background she builds by auditioning an assortment of fabrics, ribbon, paper with words. Using this image, she

shows you how to build a framed bird box collage with simple machine stitches over layers of assorted fabrics, words on paper, ribbon, and stamped images.
Watch Lisa in

How To Make a Bird Box and Time Stamp Collage with Lisa Thorpe | Sue Spargo Inspiration with Alex Anderson

.
The Quilt Show LIVE: The Blanket Stitch
Learn the Variations
Embroidery Stitches Rock! Now that you know the Blanket Stitch, did you know there are wonderful variations? Alex has

THREE

variations of the Blanket Stitch to show you today. Fun, beautiful, and calming, hand stitching back.
Alex is LIVE today Wednesday, January 19, 2022 @ 10am PST, 1pm EST, and 6pm London time. All classes are recorded so they can be viewed later.
WeAllSew Tutorial: Quilt Binding With Words
Label Your Quilts (In A Fun New Way)



As Alex, and many other quilters, have said before, it is important to always label your quilts. But who says you just have to put a label on the back? With everything going on the past few years,

Amanda Leins

at WeAllSew didn't have time to create a label, so she decided to put the label in the in the quilt's binding! Find out how she did it.
In The Store -
Picture Windows Dresden Plate Reverse Appliqué Ruler
Take your Dresden Plate Blocks to the Next Level with Picture Window Dresdens!
Watch Dee Christopher's video

How to Make A Picture Window Dresden Plate Block

and see how she uses the
Picture Windows Dresden Plate Reverse Applique Ruler
from Annie McHugs to make fun and versatile dresden plate blocks.
The Quilt Show Puzzle:

"They Call Me Mellow Yellow"
There are no comments posted here yet
Please login to leave a comment.
By accepting you will be accessing a service provided by a third-party external to https://thequiltshow.com/