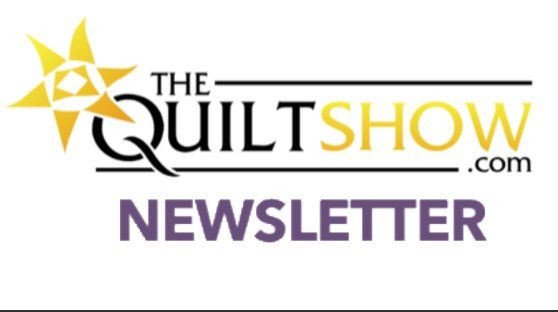 The Quilt Show Newsletter - August 1, 2022
Transform Your Quilting Starts Today, Beautiful Butterfly Bliss, Make Improv String Quilts with Teresa Duryea Wong, Garden Party Down Under Month 8 Patterns, A Conversation with HollyAnne Knight, Collapsible Market Baskets, A Thread Painted Puzzle
Newsletter - August 1, 2022
It Starts Today!
There is so much out there to learn. Fortunately, you don't have to be an expert in everything to create beautiful quilts. But quick important ideas can accelerate the beauty of your quilting projects without taking a huge amount of time.

So beginning today, we want to

Transform Your Quilting

. Every Monday and Wednesday we will be featuring two lessons. One that is a technique from a show and the other a quick tip from some of our best instructors. That's four great ideas in one week. We will also be featuring a blog where we will keep track of all the tips and techniques for you.
The secret to great quilts isn't to learn a thousand things, but to learn a few things and take action. What do you have to do?

Make sure you are a Star Member

. Then, open your newsletters and follow the links. The lessons that day will be less than 15 minutes of your time. It's fast learning and lots of fun.
Let's start your transformation with a lesson on

How to Make a 6-minute Circle

with Dale Fleming (technique)

Show 704 - Click on Chapter 3

and

How to Clean your Design Wall

with Ricky Tims (tip).

Are these Freezer Paper Miracles?
Featured Quilt - Beautiful Butterfly Bliss
Continuing the thread from

Transform Your Quilting

, we are featuring a quilt from its inaugural teacher, Dale Fleming. Her quilt,

Identity Crisis

, was the cover of her

book,

Pieced Curves So Simple, which features her fast, easy, pinless techniques for perfect machine-sewn curves and circles. And appropriately enough, the quilt and book's cover model is a lovely butterfly, which just so happens to be the mascot of

Transform Your Quilting

!
Make a Fun Improv String Quilt with Teresa Duryea Wong
Get Your

"Garden Party Down Under"

Month 8 Patterns
More Vases, Shooflys, and Dresden Plates for Everyone!
For

Month 8 of

Garden Party Down Under

you'll be adding to your collection of blocks by creating another set consisting of an appliquéd vase, Shoofly blocks, and a Dresden Plate.

There are

THREE downloads for this month including:


Patterns for Blocks 12 and 13
Instructions for Block 12
Instructions for Block 13

Again, as with the Month 7 patterns, t

he Dresden Plate pattern download can be found in Month 4. And as always don't forget to click the video tab and watch

Barbara Black's

helpful video for tips on working with these blocks.
Textile Talks:

A Conversation with HollyAnne Knight
Quilting and Technology Meet For a Riveting Discussion
On this week's Textile Talk, the Quilt Alliance welcomes
HollyAnne Knight

, the

"
founder of String & Story, an online platform for learning free motion quilting and other machine quilting skills"

for a conversation

"
about technology, the evolution of HollyAnne's career, and of course, quilts!"
Register today and watch when this episode airs this
Wednesday, August 3, 2022, at 2 PM EDT
.
A Tisket, A Tasket, Put Your Quilting Stuff in a Basket!
Available in Three Different Colors -
Red
,
Turquoise
, or Black
These handy

Market Baskets

are ready whenever you need them, and when they aren't in use they collapse for storage. The baskets are made with a strong, lightweight aluminum frame and polyester fabric with a large zippered compartment on the outside.



Measuring a roomy 17" x 11" x 9" inches when opened, it folds down to 8" x 11" x 3".



The Quilt Show Puzzle: Flying On Thread Painted Wings
By accepting you will be accessing a service provided by a third-party external to https://thequiltshow.com/