Sonya Lee Barrington's Levi's Quilts
Sonya Lee Barrington is quite the busy lady. In addition to working on all that she has going on, in the last year she took on a new project, salvaging THIRTY YEARS worth of Levi's jeans and turning them into fabulous quilts.
We'll let Sonya explain it:
"Levi's Quilts are made entirely of Levi's. NO……I am not trying to be a smarty pants! Last year I met a man at the Marin County Farmer's Market where I sell my work. Because of Covid we didn't reconnect until late December of 2020 but when we did, he brought me 30 years worth of his old Levi's. They weren't only the blue denim color but, as you can see, other colors were included. His quest was to have lap quilts made for his grandchildren, which at first thought were 2 then moved to 5 and not until recently to 6!"
And here's Sonya's explaintion for the meaning of some of the quilts, along with a photo of them grouped together:
"Here is a photo of them……you can see the names of each of the new owners. Also they each had a theme…….insects for Bryton; cats for Brooklyn and dinosaurs for Brady. The embroidery and ties were made using the thread that I salvaged from the seams."
Learn from Sonya here at The Quilt Show in How to Use Wool and Silk in a Quilt with Sonya Lee Barrington.
Click Here to visit Sonya's website.
And here are the rest of the quilts, along with some in progress photos.
Bryton's Insect Levi's Quilt
Aleena's Wild West Levi's Quilt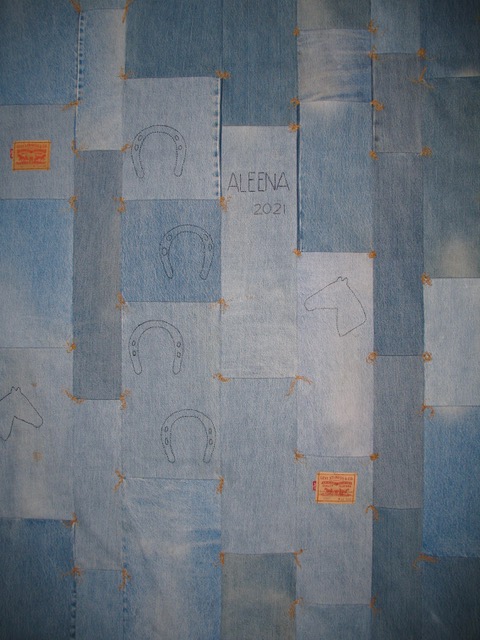 Aleena's Wild West Levi's Quilt - Label
Aleena's Wild West Levi's Quilt - In Progress
Sonya recycled other parts of the jeans too, like the thread used throughout. "Here is a collection of some of the salvaged threads. I used a lot of it in the 5 quilts."
There are no comments posted here yet
Please login to leave a comment.
By accepting you will be accessing a service provided by a third-party external to https://thequiltshow.com/