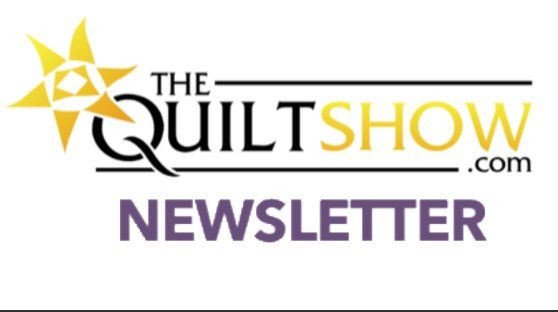 The Quilt Show Newsletter - March 6, 2022
First Place Improvisation at Quiltcon 2022, Accuquilt Prize, Sewing Machine Project, St. Patrick's Day Wall Hanging Tutorial, Heat Resistant Template Plastic, Riane Elise Puzzle
Sunday Smiles - March 6, 2022
Featured Quilt - First Place Improvisation at Quiltcon 2022
They say a broken clock is right at least twice a day, but this one is right (and better) in so many more ways.
Annie Hudnut's quilt,
Broken Clock

,
won

First Place

in the

Improvisation

category at

Quiltcon 2022

. Annie says, "

Broken Clock

is one of my all time favorite quilts. I was experimenting with "steampunk" inspired elements. Made during the early days of the pandemic, there was a Kona Pepper shortage so I combined the pepper that I had with dark black. I loved the effect. This was a challenging quilt to engineer because I have a hard time wrapping my brain around working on the diagonal."
International Quilting Weekend Prize - Accuquilt
What Did Accuquilt Donate to IQW?
It's a

Ready. Set. GO! Ultimate Fabric Cutting System

valued at $549.99. This time-saving device is loved by all. It's easy to use and a great help to those of us with arthritic hands.
The Sewing Machine Project
A Heartwarming Cause to Promote Quilting
The Sewing Machine Project
is an organization that helps to provide sewing machines and sewing tools to help create partnerships, strengthen community, and nurture the creative spirit in the world of sewing. Learn more about their cause and what they're doing to help.
WeAllSew Tutorial: St.

Patrick's Day Wall Hanging
A New Holiday Decoration For Your Home Awaits



With St. Patrick's Day a little more than a week away, it's time to start getting those green decorations ready. And what better way to do that than to make one for yourself!

Pat Bravo

at

WeAllSew

has a fun tutorial to make a

St. Patrick's Day Wall Hanging

that is shaped like a four-leaf clover. Just whip one up and you'll have all the luck you need (

and you won't get pinched either!

)
In The Store -

Karen Kay Buckley's Perfect Heat Resistant Template Plastic
Make Your Own Templates for Appliqué in Any Shape!



These plastic sheets by

Karen Kay Buckley

are just the thing for making appliqué templates that will give your prepared-edge appliqué pieces nice crisp edges. Run them through a copier or trace your designs by hand on either side of the plastic with a permanent marker.



Karen Kay Buckley's

Multipurpose Scissors

are recommended for cutting.
The Quilt Show Puzzle: See The Quilt Through The Trees
Enjoy The View (And Quilting Too!)



Quilting first and foremost is something to be enjoyed, and with The Quilt Show we want you to enjoy quilting whenever and wherever you are. As long as you have the internet, The Quilt Show is there to guide you, make you laugh, and help you along as you travel the world, or enjoy the comforts of your own home. So what are you waiting for? Go out into the world and explore (

and quilt too

)!
By accepting you will be accessing a service provided by a third-party external to https://thequiltshow.com/