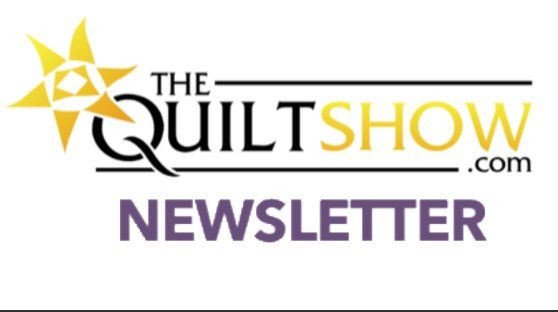 The Quilt Show Newsletter - March 2, 2022
1st Place Modern Traditionalism at Quiltcon 22, Riane Elise Sets Up a Quilt, Last Chance to See Ken Burns Quilt Exhibit, Alex Teaches the Bullion Stitch, Quilt Blocks for Ukraine, It's Not Too Late to Join Dee's Latest Class, A Sue Garman Puzzle
Welcome to Wednesday - March 2, 2022
Featured Quilt - 1st Place Modern Traditionalism at Quiltcon 2022


Hot

by Leanne Chahley won

First Place

in the

Modern Traditionalism

category at

Quiltcon 2022

and we certainly feel that this quilt is on fire with its modern take on the log cabin block. Leanne says, "I drew significant inspiration for the style of the improv log cabin blocks from a quilt called Iceberg made by my internet friend, Elaine Wick Poplin and I thank her for that inspiration and the encouragement to make Hot and the enter her in QuiltCon."
Riane Elise Shows How To Set Up a Quilt for Excellence!
Last Chance to See "Uncovered: The Ken Burns Collection"
See A Historian's Passion For Historic Quilts
The final stop and last chance to see filmmaker Ken Burns' personal collection of historical American quilts on a rare public tour starts March 5, 2022 when Uncovered: The Ken Burns Collection opens at the Peoria Riverfront Museum in

Illinois

.
Mr. Burns is set to discuss his quilt collection with the museum on March 2, 2022 during a special virtual event. Learn more about the exhibit and other quilting related programs by clicking on

Learn More

.
Alex LIVE: The Bullion Stitch - Lesson 19
Have You Heard of the Bullion Stitch?
Find out what it is and how Alex conquered it. Discover her method of getting it done in the latest lesson of the

Make It Your Own Embroidery Stitch Along

.
Alex is
LIVE
TODAY
Wednesday, March 2, 2022 @ 10am PST, 1pm EST, and 6pm London time. All classes are recorded so they can be viewed later.
Help Claudia Pfeil Make a Quilt(s) for Refugees/Children
Claudia Pfeil

is asking quilters to send her 8 1/2" blocks in blue and yellow, the colors of the Ukrainian flag, and she will make them into quilts for refugees/children who are fleeing Ukraine. If you'd like to help, click on the

Learn More

button below.

It's Not Too Late to Join Dee Christopher's

FREE

Color Theory for Quilting Class!
Time To Get Your Next Project Going



Dee Christopher's

Color My Quilt - Color Theory for Quilters

class has just started and it's not too late to get in on the action! Act now, and get your Jump Start Kit with everything you need to participate in this colorful and fun class.

But hurry, as there are only a few kits left.

So get yours while you can!
The Quilt Show Puzzle: Lots of Love from Sue Garman
By accepting you will be accessing a service provided by a third-party external to https://thequiltshow.com/