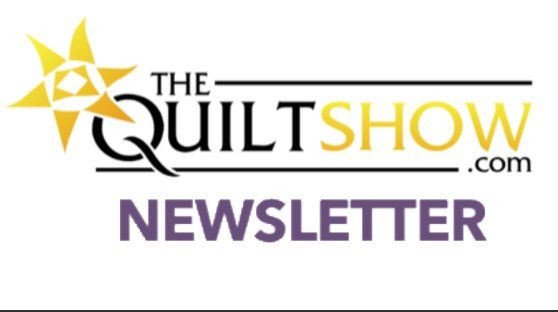 The Quilt Show Newsletter - June 19, 2022
Janet Stone's Sheep Win Again, Heather Black's Show Debuts, QSOS with Sherri Lynn Wood, Sacred Threads Sale, Quilt Recipes Book & Templates Back In Stock, A "Toad" Puzzle
Sunday Smiles - June 19, 2022
Featured Quilt - Ewe'll Want To See This Quilt
Janet Stone and her sheep are at it again. Her quilt,

Ewe Two Crazy Love Birds

, won

Third Place Wall Quilts: Stationary Machine Quilted

(

Sponsored by Baby Lock USA presented by Calico Country Sew & Vac)

at

AQS Quiltweek 2022

. It's not this quilt's first rodeo though, as it also took home

1st Place: Appliqué

at

Road to California 2022

.

Janet says,

Created in honor of my 25th wedding anniversary. Vases were woven with bias strips, I crocheted the wreath on the gate, and a few embellishments were added, including hand covered buttons. Since we have no kids, the 8 sheep in the center represent my husband and I and each of our 3 siblings, my half-brother being on the far left. Made with mostly French General fabrics, which brought me joy, during a year that did not."



Learn from Janet right here at TQS by watching her in

Block of the Month Quilt 2014 A-Z for Ewe and Me! by Janet Stone

.
Heather Black Is Here In Our Next Great Show!
Plus, We Have the Creators of the Houston International Quilt Festival
Modern quilt designer, quilter and teacher

Heather Black shares tips and tricks for creating your own stunning quilts using curved templates and striped fabric. Taking it a step further, Heather shows Alex how to make a simple quilt pattern more dynamic using color, depth, value, contrast. Then the TQS camera crew visit with Karey Patterson Bresenhan and Nancy O'Bryant Puentes to learn how these two women propelled an idea for an International Quilt Market and Festival from modest beginnings to a major international event.
Learn from Heather, Karey, and Nancy in Curved Piecing and Quilt Design with Heather Black | Karey Bresenhan & Nancy O'Bryant Puentes Houston Quilt Show Founders, which debuts today!
Quilters' Save Our Stories with Sherri Lynn Wood
Hear Sherri Share Her Story
For today's interview from the
Quilter's Save Our Stories
(QSOS) program, we are focusing on TQS guest Sherri Lynn Wood. In this conversation with
Karen Musgrave, Sherri talks about her quilt,
Linda Susan Wood (1943-2003) Passage Quilt
, a bereavement quilt that Sherri made out of her mother's clothes after she passed away.
Sacred Threads "Backyard Escape" Sale
Buy A Quilt and Do Some Good
Lisa Ellis

and

Sacred Threads

are having a sale of quilts from the

Backyard Escape

Exhibit that traveled to hospitals and have now completed their journey. The money raised supports the artists and the INOVA Schar Arts and Healing program (local cancer center in the Northern VA). The sale runs from now through July 13, 2022.

Back in Stock - Jen Kingwell Quilt Recipes Book & Templates!
Get The Book, Then Use The Templates For The Projects

The lovely
Quilt Recipes

book
by Jen Kingwell
offers 12 gorgeous quilt and cushion projects and 8 delicious food recipes for you to make. And once you have your book, don't forget to grab your
Quilt Recipes Acrylic Project Templates
to complete the Diamond Exchange, Winki Stars, Point Addis or Wensleydale Patterns featured in
Quilt Recipes
.
The Quilt Show Puzzle: A Prince Is In There Somewhere
"

My Kingdom For A Toad

"
by Linda Sullivan
My Kingdom For A Toad
was designed at Linda's home after she couldn't find a pattern that she liked. So, she took all her fabulous colored fabrics that she had from a class with Freddy Moran and built this quilt. By the time she went back to the quilt shop to get a backing fabric for it, the quilt shop wanted a pattern of it. Linda then wrote the pattern and it launched her first company, Linderella's Quilt Works. The pattern to this day has sold over 75,000 copies.
See more of Linda's quilts in
How to Do Wonky Piecing and Easy Machine Appliqué with Linda Sullivan
.
You Never Know What You'll Make Next
Every other week on The Quilt Show you'll get a brand new teacher with a whole new set of tips and tricks to learn that you can use for years to come. We're always surprised (

in a good way

) with what they bring because sometimes

WE

don't even know what may be coming up next. So join us for each new show and share in the fun with us!
By accepting you will be accessing a service provided by a third-party external to https://thequiltshow.com/