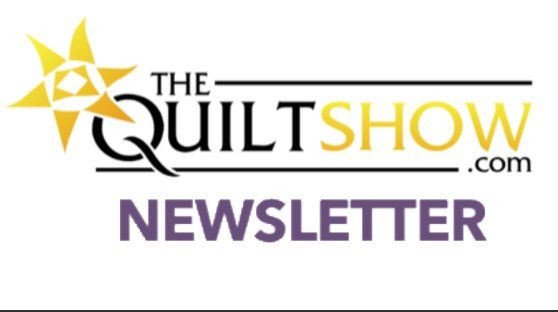 The Quilt Show Newsletter - January 30, 2022
Another Award-Winning Elsie Campbell Quilt, Our New Show-Machine Quilting vs Hand Quilting, Make A No-Sew Valentine's Day Wreath, The Quilt Alliance Has Great News, Roxette Thimbles, An Elsie Campbell Puzzle
Sunday Smiles - January 30, 2022
Featured Quilt -
Summertime
by Elsie Campbell
In a further celebration of her exemplary work, we'd like to share another award-winning quilt by the late Elsie Campbell.
This winner of
Best Hand Quilting
at Road to California 2020 was inspired by Elsie's flower garden.
Elsie started with one idea of how the blocks would be set, but when it wasn't working the way she anticipated, the blocks were put away until she came up with a better idea for the setting
six years later
. She then decided the blocks needed more details so she added hand embroidery.



It then took several more months to develop her setting idea and accomplish the hand appliqué process to complete the entire quilt top. The trapunto, hand quilting and bead work took a little over a year.

Summertime

was completely constructed, appliquéd, and quilted by hand over a period of 10 years. Even the binding is applied with hand stitches.

No wonder it also won

First Place, Handmade

at the Houston Quilt festival in 2019. We will miss your artistry Elsie. If you'd like to learn more about Elsie watch

Show 407

which we have opened up for

FREE

for everyone to enjoy!
Our New Show With Alex and Ricky Debuts Today!
Hand Quilting or Machine Quilting?
Which do you prefer? After watching this show, you just might change your mind. Alex will guide you through the tools, fabric, and thread she prefers when hand quilting. She also demonstrates her method for hand quilting and tying off knots.

Then Ricky discusses the importance scale and density play when choosing a design for machine quilting. Design ideas continue as he shows a no-backtracking feather doodle design and how to deal with managing the bulk of a quilt under the arm of the machine bed.

Watch

How to Do Hand Quilting and How to Do Machine Quilting with Alex Anderson and Ricky Tims

, which debuts today!
The Quilt Alliance Has Great News to Share
Quilt Alliance to Receive $50,000 Grant from NEA
The Quilt Alliance is pleased to announce they have been approved to receive an American Rescue Plan grant from the National Endowment for the Arts (NEA) to help the arts and cultural sector recover from the pandemic.



"Our nation's arts sector has been among the hardest hit by the COVID-19 pandemic. The National Endowment for the Arts' American Rescue Plan funding will help arts organizations, such as the Quilt Alliance, rebuild and reopen," said Dr. Maria Rosario Jackson, chair of the NEA. "The arts are crucial in helping America's communities heal, unite, and inspire, as well as essential to our nation's economic recovery."
Make a No-Sew Valentine's Day Wreath
Use Up Those Fabric Scraps
Have a lot of red and pink scraps? Jen from

Shabby Fabrics

shows you how to create a quick and easy fabric wreath. Put this together in no time for Valentine's Day.
In The Store - Roxette Thimbles
Do Your Hand Quilting with Less Stress
These ergonomic thimbles keep you sewing longer by putting less stress on your finger joint. Plus, the open end allows for a great fit without your fingernail getting in the way.
Available in five sizes and five different colors, you'll want the whole rainbow.
Puzzle: Elsie Campbell's Stunning Autumn Quilt
It's All About Variety





There is so much variety at The Quilt Show, machine quilting to trapunto, hand quilting to embroidery, you can learn it all. And, when you join, you can enjoy every show whenever you want and as often as you want. So many choices...how will you decide?
By accepting you will be accessing a service provided by a third-party external to https://thequiltshow.com/