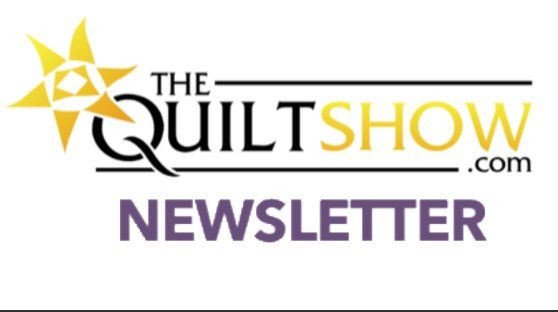 The Quilt Show Newsletter - January 26, 2022
Best Hand Quilting - Road2CA 2022, Alex Teaches Sue Spargo's Wisdom, Learn the Herringbone Stitch, The Bird and Flower Quilt, Stabilizers and Fusibles, Ricky's New Class, A Puzzle Full of "Liberty"
Welcome to Wednesday - January 26, 2022
Featured Quilt - Best Hand Quilting Road to CA 2022
Lullabye in 3/4 Time

by Barbara Clem is another multi-awarding winning quilt. This time it won

Best Hand Quilting

at

Road to California 2022

. Prior to that it won

Second Place - Traditional

at the

Mancuso 2021 Virtual Spring Quilt Festival

.
Artist's Statement:
"
I needed a project to carry along when I traveled with my husband. All the fabrics came from my stash and since time was of the essence, quickly assembled my motifs in a medallion style. I added the pale yellow to bring that center hung square to life and proceeded to add more of my curvy vines, flowers and leaves till I was happy. She is lightly embroidered...

enhanced with beautiful hand quilting and light trapunto.

She is a happy quilt."
We agree!
Alex Shares Sue Spargo's Great Lessons
The Quilt Show LIVE: The Herringbone Stitch
Alex Teaches the Herringbone Stitch and Some Variations
The Herringbone Stitch is beautiful and fun. Plus there are variations. Alex will show you how to create the herringbone stitch and alternative stitches that will make your project shine.
Alex is
LIVE

TODAY
Wednesday, January 26, 2022 @ 10am PST, 1pm EST, and 6pm London time. All classes are recorded so they can be viewed later.
Learn About Jewel Dee Merriman Clark's State Bird and Flower Quilt
Quilt Stories from the Museum of Texas Tech University





State bird and flower quilts have been popular among quilt makers for years. It is a nice way to honor each state and teach the next generation about the symbols of each of the states in the country. Learn about Jewel Dee Merriman Clark's State Bird and Flower quilt created in the 1950s using crayons.
In The Store - Lose the Confusion about Stablizers and Fusibles
Stabilize Your Knowledge

Do you find Stabilizers and Fusibles confusing? Learn all about them from

Dee Christopher

in this video where she explains each product, what they are used for, and how to apply them.

Join Ricky for a Two-Day
Harmonic Convergence
Online Quilt Class
Convergence Quilts are Magical,

F
ast
,

E
asy
, and VERY

F
un
!
Saturday and Sunday, February 4-5, 2022!
This course will cover the first of four Convergence methods - the

Harmonic Convergence

. By using only four squares of fabric, an amazing and magical artful wall quilt emerges!
$54, CLASS ONLY (Use Your Own Fabrics)
The Quilt Show Puzzle: Centennial Celebration of Liberty
"
Lady Liberty Medallion"

by

Marianne Fons
Marianne created the
Lady Liberty Medallion
in 1986 so that she could enter it into the Great American Quilt Contest. She says that she,
"Entered it in the Great American Quilt Contest honoring the 100th birthday of the Statue of Liberty."
See more of Marianne's quilts in
2018 Quilt Legend Marianne Fons

.
By accepting you will be accessing a service provided by a third-party external to https://thequiltshow.com/