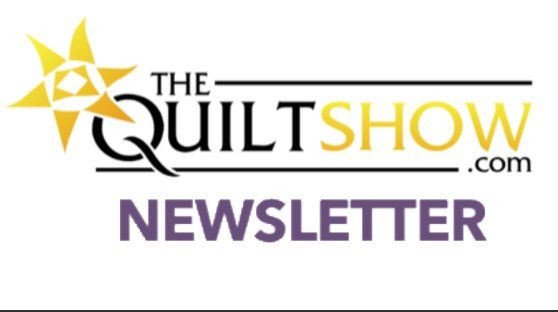 The Quilt Show Newsletter January 23, 2022
Kumiko Frydl's Award-Winning Quilt, String-Pieced Quilts Exhibit, Patchwork Heart Pincushion, SAQA Grant Program, A Puzzle from the "Beginning"
Sunday Smiles - January 23, 2022
Featured Quilt - Kumiko's Award Winning Quilt
Recent guest and friend of The Quilt Show

Kumiko Frydl

just took home another big award for one of her miraculous miniature quilts. This time her quilt,

Emerald Labyrinth

, won
Best Machine Stationary Quilting

at

Road to California 2022

. Come and take a look and see once again why Kumiko is known as the master of the miniature quilt.
String Theory: String-Pieced Quilts from Past to Present
Straight From the

Iowa Quilt Museum
Highlighting quilts from the exhibit,

String Theory: String-pieced Quilts from Past to Present

, exhibit contributors Roderick Kiracofe, Siobhan Furgurson, and curator Linzee McCray share a lively discussion and show off these beautiful works direct from the Iowa Quilt Museum.
WeAllSew Tutorial: Patchwork Heart Pincushion
Keep Cupid's Arrow Pinned Down



They say that we were our hearts on our sleeve, but what if we could take that expression literally? Well now you can, except maybe on your table and not the sleeve, as

Melissa Mortenson

at

WeAllSew

has made this adorable Patchwork Heart Pincushion to keep all those pesky pins in place when you're making that Valentine's gift for that special someone.
Announcing
SAQA's Individual Grant Program
Participate in SAQA





SAQA

(Studio Art Quilt Associates) is pleased to announce a

program designed for members, or potential members, who are experiencing financial hardship. They hope these grants will provide applicants the opportunity to grow creatively and professionally through participation in SAQA.
New In The Store - Beautiful Batiks from Anthology
Two Bundles, Double The Fun


These brand new

Batik Fat Quarter Bundles

from Anthology are a

vailable in both

Warm

and

Cool

colorways. And, in our personal opinion, we think you need both!
The Quilt Show Puzzle: How We See The World
"In the Beginning"
by Lisa Thorpe
In the Beginning
is a literal story quilt. Featuring an Earth origin story written by Lisa, it describes the raven as both the maker and saviour of the Earth. With an antique quilt adorning the bottom, and some antique indigo dyed crocheted lace at the top, Lisa incorporated both of these elements as a way to say that makers can save the world if we bring our heart and soul and creativity together.
See more of Lisa's quilts in
How To Make a Bird Box and Time Stamp Collage with Lisa Thorpe | Sue Spargo Inspiration with Alex Anderson
.
It's All About Balance



Face it, we could all use a little balance in our lives and what better way than to balance hard work than with "hard" play.

Take some time to learn and grow with The Quilt Show. From face painting to embroidering stitches, we have all the play you need right here.

(Image by Lisa Thorpe)
By accepting you will be accessing a service provided by a third-party external to https://thequiltshow.com/