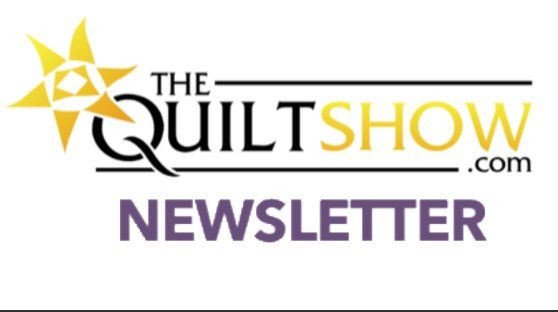 The Quilt Show Newsletter January 21, 2022
A Book Inspired Quilt, Janet Stone BOM Month 6 Update, The Smithsonian National Quilt Collection, Alex's Neutral Class Update, Dee Demystifies Fusibles, A Coat Fit For A Queen, Lap Apps are Back, A "Brilliant" Puzzle
Weekend Fun - January 21, 2022
Featured Quilt - Curiouser and Curiouser
Beth Miller let her imagination run free when she created Down the Rabbit Hole, featuring some favorite characters from Alice in Wonderland. This quilt brought a smile to our face when we saw it at the Houston Quilt Festival 2017.
BOM Pattern Update:

A-Z for Ewe and Me!

- Month 6
The Letter "N"
If you've been working on

A-Z for Ewe and Me!

, the 2014 Block of the Month by

Janet Stone

, you will need to download the updated version of the letter "N" for Month 6. Janet has corrected the pattern so that the letter fits properly. Make sure to print at

ACTUAL SIZE

.



Want to know more about the 2014 Block Of the Month? It is available to all STAR Members and Janet will tell you all about it when you watch
Block of the Month Quilt 2014 A-Z for Ewe and Me! by Janet Stone

.
The

Smithsonian National Quilt Collection
Take A Tour of History's Quilts



While everyone knows that The Smithsonian has wonderful museums celebrating history, aviation, science, and so much more, did you know that they have a fantastic quilt collection as well? They take great care in preserving the history and story of many different kinds of quilts. Come take a look behind the scenes and see a truly stunning collection!

(Photo:

Mary Hise Norton's Silk Quilt, 1825 - 1850. Smithsonian's National Museum of American History)
The Quilt Show LIVE: Alex

AND

Dee are LIVE
Neutral Class Update and Pokey Bolton Interview





The Neutral Quilt Class is coming. So what do you need to do to get ready? Alex gets you started now. Be ready to look at neutrals in a whole new way. PLUS, Alex talks with Craft Napa founder Pokey Bolton after the classes were over.





Alex will be

LIVE

TODAY

, January 21, 2022 @ 10am PST, 1pm EST, and 6pm London time. All classes are recorded so they can be viewed later.

Demystifying Stabilizers and Fusibles (Lose The Confuse!)

Fusibles and stabilizers can be very confusing. Tomorrow

Dee Christopher

, who

is k

nown for making quilting techniques more clear,

demystifies what both are used for in quilting.





Dee will be

LIVE

TOMORROW

, January 22, 2022 @ 10am PST, 1pm EST, and 6pm London time. All classes are recorded so they can be viewed later.
From The Screen to Reality
Victoria Stone at Okan Arts gave herself a challenge, recreate one of the outfits from the Disney film

Frozen 2

for her friend's daughter. Spending nearly two years making the dress, the fruits of her labor have finally taken shape and a beautiful garment is now made. Follow along with her process and see how this stunning recreation was born.
In The Store - Lap Apps are Back in Stock!
Get Yours Before They Sell Out (Again)!





Lap Apps

are back in stock.

This extremely handy small lap table provides a resting spot for your hands while you stitch appliqué and handwork, and it features special Star Knobs that make it easy to adjust or collapse for travel.
The Quilt Show Puzzle: Gracefully Flying to Places Anew
"
Observe This Brilliant Moment"

by Lisa Thorpe
Based on a photo of a crane she took while paddle boarding,
Observe This Brilliant Moment
is a story quilt about Lisa soaking in the day and arriving in a new place she didn't know anything about, it this case Arkansas. The title is reflected in the quilting as well, with
"Observe This Brilliant Moment"
stitched in the background over and over like a mantra for Lisa's new experience.
See more of Lisa's quilts in
How To Make a Bird Box and Time Stamp Collage with Lisa Thorpe | Sue Spargo Inspiration with Alex Anderson
.
By accepting you will be accessing a service provided by a third-party external to https://thequiltshow.com/