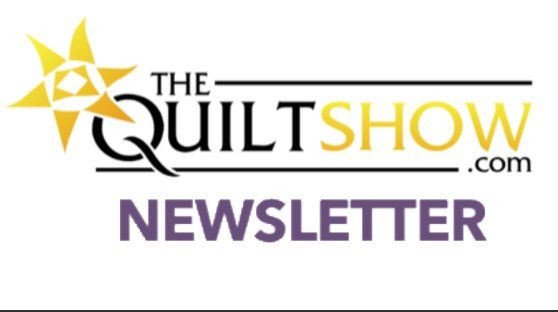 The Quilt Show Newsletter - February 28, 2022
First Place Minimalist Design - Quiltcon 22, Hand Quilting or Organizing - You Choose, International Quilting Weekend Prizes Galore, Alex LIVE is Back, 2022 BOM Month 2 Updated Patterns, Lap Apps are Back, Memory Match, A Puzzle Full of Scraps
Newsletter - February 28, 2022
Featured Quilt - First Place Minimalist Design Quiltcon 2022
Passage no. 5
by Carson Converse is a whole cloth quilt that
was created with stitching that goes way beyond the definition of "matchstick" quilting.
Carson writes,
"My goal is to create pieces that are simple, yet rich with detail - pieces that invite the viewer to stop, breath, and look closer."
You'll want to look much closer at the detail in this quilt.
Is It Time to Try Hand Quilting.

..Or Do You Want to Get Organized?
Have a lot of energy?
Lilo Bowman
is on the scene with five steps to help you jump start your studio organizing. Find out what Alex learned that helped whip her studio into shape.
International Quilting Weekend - Prizes Galore
Alex LIVE: Make It Your Own Embroidery Stitch Along 18
It's Time for a Leaf Stitch!

Alex shares a super simple embroidered leaf stitch to embellish your projects. Apply it to stems and branches or use it as a beautiful motif on its own. Working with your hands is refreshing and fun!



Alex is
LIVE
TODAY
Monday, February 28, 2022 @ 10am PST, 1pm EST, and 6pm London time. All classes are recorded so they can be viewed later.
"Garden Party Down Under"

Month 2 Update
Get Up To Date With All Of Your 2022 BOM Patterns

As of 2/27/2022,

"
Garden Party Down Under"

BOM 2022 Month 02 - Border 2 and 3 Patterns
was updated to include corner leaves. Remember it is under the Patterns/Documents tab.
Pssst... Lap Apps are Back in Stock!
The Popular Portable Is Back



Have you been trying to get

a

Lap App

but keep missing them before they sell out? Now's your chance!
Jinny Beyer's Memory Match Game
| | |
| --- | --- |
| We didn't know the name of this block. Do you? Play Jinny Beyer's Memory Match and find out. | |
The Quilt Show Puzzle: Saved Scraps Come Together
By accepting you will be accessing a service provided by a third-party external to https://thequiltshow.com/