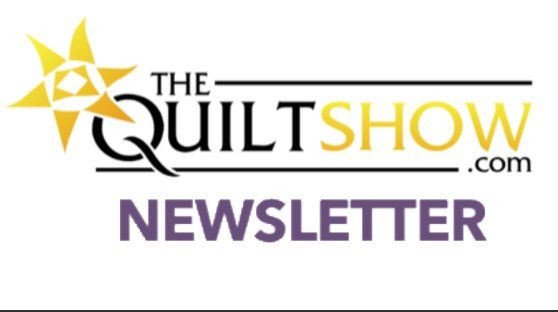 The Quilt Show Newsletter - February 27, 2022
Quilting Excellence Award at Quiltcon 22, New Show with Riane Elise and Lilo Bowman, "Garden Party Down Under" Month 2 Update, Sew a Mini Organizing Collection, Get Organized with "Love Your Creative Space", A Conversational Puzzle

Sunday Smiles - February 27, 2022
Featured Quilt -

Quilting Excellence Award at Quiltcon 2022



There are many things that are both excellent and interesting about Danielle Robbins' quilt,

The Jinx

. Number one, that it won the

Quilting Excellence Award

at

Quiltcon 2022

. Two, it is named after her cat. And three, that it is beautifully hand quilted all over with a backing fabric whose color will knock your socks off! See for yourself why it won, and maybe you will find a few more excellent things about it yourself!
Our Latest Show With Riane Elise and Lilo Bowman!
"Garden Party Down Under"

Month 2 Update
More Leaves For Your Basket

Barbara Black has an update for Month 2 of

Garden Party Down Under

. The current Month 2 pattern is missing two leaves on the Basket Corner page 2, also page 1. Barbara has updated her Month 2 blog and created a Forum Topic on MONTH 2 PATTERN CORRECTION. She will also discuss the correction in her LIVE on March 5, 2022. We will be working on getting the pattern corrected as soon as possible.
WeAllSew Tutorial: How to Sew a Mini Organizing Collection
Contain Yourself!



Looking for some quick and practical ways to get organized in the new year?

Christina Kenkel

at

WeAllSew

has a tutorial on how to sew a

Mini Organizing Collection

that includes a:



Padded Computer Sleeve

Padded Phone Sleeve

Notebook Sleeve

Pencil Case
Get Organized With

"Love Your Creative Space"

by Lilo Bowman
Organize With Ease

Does your creative den leave you feeling overwhelmed or uninspired? Energize it with fun and easy ideas for craft organization and accessibility from

Lilo Bowman

! Featured in our latest show debuting today, Lilo's book,

Love Your Creative Space

, will help you

finally be able to plan and organize your projects in a workspace that works for you.
Available as both a quick downloadable PDF and as a printed book.
The Quilt Show Puzzle: Keep The Conversation Going
"

Viral Conversations

"
by Kerri Green
Viral Conversations
is a part of a series that Kerri started that was inspired by aboriginal art. In the original artwork, striped lines were used to show the areas from village to village or the location of water holes. In her quilt, Kerri uses those striped lines as a way to represent conversations. And while you may think the design might be improv, think again, for Kerri makes very specific patterns to replicate the look of improv designs she previously drew.
See more of Kerri's quilts in
Learn How To Piece Curves and Create Transparency with Kerri Green | Scale in Antique Quilts with Lisa Erlandson
.
What You Want May Be Staring You Straight In The Face



We know that sometimes there are so many different techniques and styles to choose from when making a quilt that you can't see straight. So how do you decide which one to choose? At The Quilt Show, we recommend taking the topic you're interested in, searching for it on the site, and then watching a show about it to see if it's right for your quilt. Who knows, you may even find a new idea that you like even better along the way!
By accepting you will be accessing a service provided by a third-party external to https://thequiltshow.com/