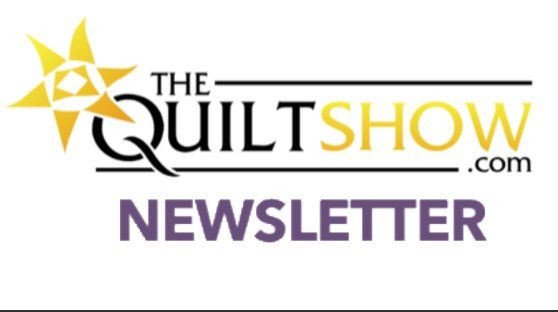 The Quilt Show Newsletter - February 25, 2022
Best Machine Quilting, Framed Needle Moves - Quiltcon 22, On The Set with Riane Elise and Lilo Bowman, Color My Quilt Class 2, How to Sew A Pillowcase, Own a Piece of History, Sparklers Quilt Kit, A Puzzle Collage

Weekend Fun - February 25, 2022
Featured Quilt - Best Machine Quilting,
Framed Needle Moves at Quiltcon 2022
Aroha

by Michelle Wilkie won

Best Machine Quilting, Framed Needle Moves

at

Quiltcon 2022

, but she didn't make this quilt alone, it was a team effort.

"This quilt was a group quilt where I chose Maori design influences and a traditional color palette to introduce friends to the culture I grew up with in New Zealand."

And what does the title mean you ask? Michelle says,

"

Aroha means love in Maori."

An all-around appropriately fitting title considering we just

"love"

this quilt, especially the back. (

It'll make sense once you see it.

)
On The Set with Riane Elise and Lilo Bowman

How Did The Quilt Show Get Made This Week?
Go behind the scenes of our latest show as

Riane Elise

joins Alex and Ricky to teach the art of hand quilting with a modern twist. Learn about her quilting style and the interesting materials she uses to create her quilts, as well as a great tip for managing your skeins of thread. Then join Lilo Bowman as she show five steps to help you jump start your studio organizing.
Watch Riane and Lilo in
Hand Quilting from the Modern World with Riane Elise | Five Steps to Jump Start Your Studio Organizing with Lilo Bowman
, when it debuts this Sunday, February 27, 2022.
Dee LIVE:

"Color My Quilt"

Continues
Class 2 is Coming To You!

This week,

Dee Christopher

talks about fabric temperature, how we relate to color emotionally and physically, and choosing fabric for the purpose of quilting.
Dee will be LIVE

TOMORROW

, February 26, 2022 @ 10am PST, 1pm EST, and 6pm London time. All classes are recorded so they can be viewed later.
WeAllSew Tutorial:

How To Sew A Pillowcase
Slumber On a Simple Pillowcase



What goes great with a homemade quilt lying on top of a bed? A set of homemade pillowcases to go with it!

Emily Hall

at

WeAllSew

has a quick and simple pillowcase tutorial for you that'll let you whip up a set of fun and decorative cases in no time at all!

Own a Piece of History While Supporting the Museum of Texas Tech
Were you aware that not all museums with textile collections are able to fund a curator? The Museum of Texas Tech University has one of the largest Clothing and Textile Divisions (

including quilts

) in the state of Texas, and one of the very few with a curator dedicated to its care, research, and exhibition. In order to ensure that there will always be a curator at the Museum of Texas Tech University the TTU Museum Association is holding an online quilt auction.

(Photo:

Complementary Adobe

by Linda Fisher)
New In The Store - Sparklers Quilt Kit Featuring Moda's Songbook Fabric Line
Star Light, Star Bright





Make a joyful quilt full of twinkling stars!

This beautiful

Sparklers Quilt Kit

includes all of the fabrics to make the quilt top and binding. That means more than 7 yards of fabrics from Moda's Songbook line and a printed

Sparklers

pattern by Wendy Sheppard



(Finished Quilt Size: 60" x 60")
The Quilt Show Puzzle: Creative Collaging At Work
There are no comments posted here yet
Please login to leave a comment.
By accepting you will be accessing a service provided by a third-party external to https://thequiltshow.com/