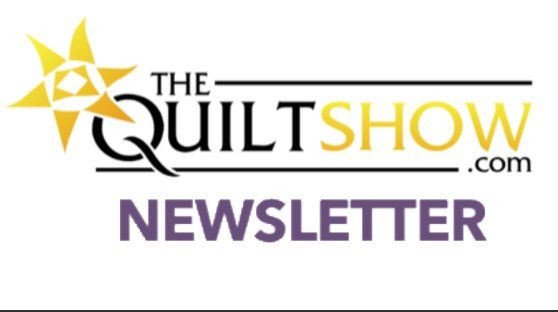 The Quilt Show Newsletter - February 23, 2022
First Place Piecing and Viewer's Choice at Quiltcon 22, Lisa Erlandson Compares Antique Quilt Sizes, What to do With Black Bias Tape, Bisa Butler Weaves Black History into Art, Kasuri Fat Quarter Bundle, A "Medallion" Puzzle

Welcome to Wednesday - February 23, 2022
Featured Quilt -

First Place Piecing and Viewer's Choice at Quiltcon 2022
Pride and Joy

by Veruschka Zarate won

First Place - Piecing

at

Quiltcon 2022

and is a self-portrait of Veruschka and her two little boys. It is made of 2,359 shapes and 20 different cotton solids, it is foundation paper-pieced and a tribute to her love for her boys. Not only did we love this quilt, but so did the people at Quiltcon, as it also won the

Viewer's Choice Award

.
Lisa Erlandson Sizes Up Antique Quilts
A Quiltcon Quickie -

What To Do with Black Bias Tape?
Be Bold with Your Black Bias



These quilters at Quiltcon 2022 came up with some great ideas using black bias tape (either homemade or store bought) when creating these beautiful quilts.

And if these quilts inspired you, don't miss out because our

Fusible Quick Bias Tape

is on sale in the store, and

marked down to just $12.99.
Bisa Butler Weaves Black History Into Art
Big Bold Creativity Tells A Stunning Story



If you haven't had heard the name

Bisa Butler

by now, then are you in for a treat. Bisa takes moments throughout black history, and creates life-size quilted portraits with vibrant colors that will capture your imagination and attention from a mile away. In this profile from CBS Evening News, Bisa is interviewed about just what makes her quilts so special.
New In The Store
-

Kasuri Fat Quarter Bundle from Artisan Batiks
Beautiful Blues to Peruse



This moody bundle in shades of indigo features beautiful sashiko inspired designs.

Each bundle contains 26, 18" x 21" fabric pieces and are

100% Cotton

.
The Quilt Show Puzzle: A Magnificent Medallion
"

Medallion Sampler

" by

Sally Collins
Medallion Sampler
was designed, machine pieced, and hand quilted by Sally. It's in a traditional medallion style with multiple blocks and borders enhancing the center design. You can learn about the quilt in Sally's book,
Borders, Bindings, & Edges
.
See more of Sally's quilts in
How to Do Precision Piecing with Sally Collins

.
By accepting you will be accessing a service provided by a third-party external to https://thequiltshow.com/