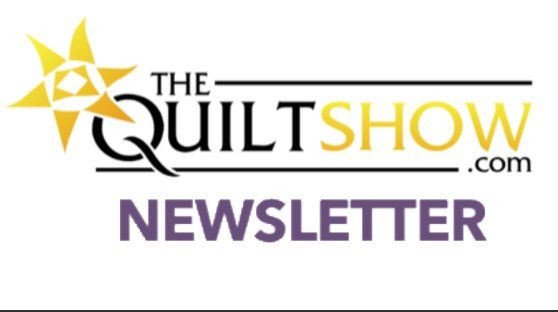 The Quilt Show Newsletter - February 21, 2022
First Place - Small Quilts at Quiltcon 2022, Red Fabric Rules, A Peek at Patricia Belyea's Studio, Pattern Making with Kerri Green, Happy Hilltop Fabric Bundle, Memory Match, A Sunny Puzzle
Newsletter - February 21, 2022
Featured Quilt - 1st Place Small Quilts at Quiltcon 2022

This quilt follows all the rules.

Sudoku

by Charles Cameron not only complies with the rules of a Small Quilt at a perimeter of 119" or smaller, it actually follows the rules of the Sudoku game. Charles writes,

"I'm an engineer by training and numbers are my love language."

He should be in love with this latest number, number one in Small Quilts at Quiltcon 2022.

And be sure to look at all the photos just to see how small this small quilt actually is!
Quiltcon Quickie - Red Fabric Rules



If you do, you'll love these two quilts we found at Quiltcon 2022. One large and one small, these two quilters took red to the next level.

Red Quilt - Right Angles

has over 30 red fabrics and

Redwork

(a very Small Quilt) uses nine different red solids.

Here's a good reason to

"be seeing red"

!
Okan Arts - A Peek Into Patricia Belyea's Studio
Little Things Make a Big Difference
Patricia writes, "Often it's the little things that can be make a big difference to our happiness and success. In surveying my sewing studio, I gathered up a bevy of useful and beloved gear to share with you."

Pattern Making Is As Easy As 1, 2, 3 With Kerri Green
New In The Store -
Happy Hilltop
Fat Quarter Bundle
Twenty-Four Fat Quarters + Two Panels = Plenty of Fun Ahead



This

Happy Hilltop Fat Quarter Bundle

by

Vanessa Lillrose and Linda Fitch
includes 24 fat quarters and two 1/2 yard panels. It's everything you need to whip up a quick and easy quilt top with a beautiful scene to inspire you.
Jinny Beyer's Memory Match Game
Step out of the darkness and let your true game playing potential shine with a new round of

Jinny Beyer's Memory Match

. Name each block, get a great time, and it's off to the races you go!
The Quilt Show Puzzle: A Quilt For Sunday On Monday
"
Sunday Bloomers"
by
Mickey Depre
A lovely quilt full of color from Mickey Depre,
Sunday Bloomers
measures 52.5" x 68.5" and was created using hand-dyed and commerical cotton. It is machine appliquéd and machine quilted. Mickey says,
"A sunny Sunday last July sent me to my sketch pad, and this was my vision."
See more of Mickey's quilts in
How to Piece a Hexagon Quilt with Mickey Depre

.
By accepting you will be accessing a service provided by a third-party external to https://thequiltshow.com/