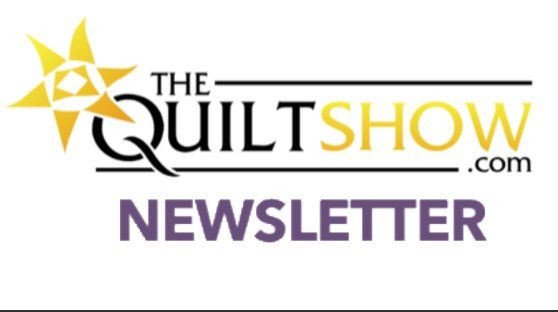 The Quilt Show Newsletter - February 20, 2022
Best Machine Quilting - Frameless, Needle Stationary at Quiltcon 2022, Amazing Glasswork, Olympic Crocheted Bouquets, How to Sew a Hand Towel, New Jen Kingwell in Shop, Puzzle
Sunday Smiles - February 20, 2022
Featured Quilt -
Best Machine Quilting - Frameless, Needle Stationary at

Quiltcon 2022
Cherry Basket
by Frieda Anderson is an exercise in beauty with a

combination of hand-dyed cotton, silk, and linen fabrics. The colors are breathtaking and take this traditional basket quilt to another level.
If you'd like to see more of Frieda's work, watch her show,
How to Do Fusible Appliqué and Binding with Frieda Anderson
.
Quiltcon Quickie - Not All Art is Textile
Southern Exposure by Einar & Jamex de la Torre



Not all of the artwork at Quiltcon 2022 in the Phoenix Convention Center was of a textile nature. These amazing columns containing blown glass objects stand along either side of the Washington entrance. They were "entrancing" to behold.
WeAllSew Tutorial: How to Sew a Hand Towel
A Quick Scrap-Busting Project





Katie Kortman

wanted to add some color to her no-frills military base house.



She already had some very plain IKEA hand towels for the bathroom, but they needed some color and life. So, she went to her giant bag of scraps to make this scrap-busting project.

Alex Mentioned These in her Facebook LIVE
A Bit of Confusion over Knitting vs Crocheting

Alex mentioned this

group of elderly knitters in Shanghai who were tasked with crocheting lifelong mementos for Beijing 2022 Winter Olympics athletes.

There seemed to be some confusion over whether they were knitted or crocheted. As you watch the video, you can see how the confusion began.

New In The Store -

Quilt Recipes

by Jen Kingwell
"For lovers of quilts and baking, a book that nourishes the soul and the tummy"
For lovers of quilts and baking, this book includes 12 quilt projects and 8 recipes!
Quilt Recipes

is the latest book from Jen Kingwell, combining her love of quilting with her love of baking. It combines 12 quilt and cushion projects from Jen with 8 recipes passed down from her mum, all photographed against a modern interior aesthetic.
Also available,
Quilt Recipes
Acrylic Template Only Sets which are
e
asy to use templates
for
use with the

Quilt Recipes

Book.
The Quilt Show Puzzle: This Quilt Is Grade "A" Fun
Putting it All Together



Here at The Quilt Show we can help you put it all together with the aid of more than 300 shows, countless classes, and tips and tricks galore. And we promise, we use more than tape, maybe a little glue, some thread...an occasional sewing machine...
By accepting you will be accessing a service provided by a third-party external to https://thequiltshow.com/