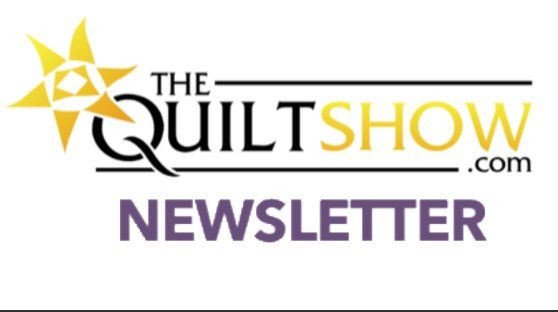 The Quilt Show Newsletter - February 18, 2022
Quiltcon 2022 Best of Show, A Quiltcon Quickie, A Musical Harmonious Quilt, The Costumes of The Marvelous Mrs. Maisel, Color My Quilt Starts Tomorrow, Make Quilted Baby Booties, Get Prepped For Color My Quilt, A Graphic Puzzle
Weekend Fun - February 18, 2022
OOPS! - Two Times the Fun



We were so excited to send out the latest newsletter that we sent it out a day early. For those of you who missed it the first time, we are sending it again and adding a bit of Quiltcon goodness.
Quiltcon 2022 - Best of Show





2020 Vision

was created by Hillary Goodwin, a healthcare worker who like many of us suffered through a very difficult year. The quilt is

machine pieced

,

hand appliquéd

, and

hand quilted

with, as she calls them,

"monotonous 2020s"

throughout the quilt, with the exception of one 2021.
A Quiltcon Quickie With

Constance Griner
A Quick Interview About A Fun Quilt



How does a quilt get its name? We asked Constance Griner when we bumped into her in front of her quilt,

Where's the Cheese?

, at Quiltcon 2022. Thanks Constance.
Featured Quilt - "

Half Of My Heart Is In Havana"
Tres Amigos - Havana Harmony
by Kay Braunig Donges was featured at
Houston 2021
and was inspired by Cuban paintings. On what specifically inspired her quilt, Kay says,
"For years, I have been admiring some paintings of musicians hanging in our local Cuban restaurant. With permission, the three figures on the quilt are from these paintings done by the restaurant owner's mother. I designed the background from a public domain photograph of a street in Havana and had it printed by Spoonflower. The figures were appliquéd on after it was matchstick quilted."
The Costumes of The Marvelous Mrs. Maisel
It's Marvelous To Be Back



To celebrate the debut of

The Marvelous Mrs. Maisel's

fourth season today, watch as

"

Costume Designer

Donna Zakowska

, along with "The Marvelous Mrs. Maisel" cast and directors, discuss how character personality and development influences clothing and style" within the show.
Dee LIVE: Color Theory For Quilters Is On Its Way
A New and Colorful Journey Awaits



Join quilting instructor

Dee Christopher

in a hands-on class where you practice color theory by creating quilt blocks. When the class is finished, you will be able to make them into a quilt!
Dee will be LIVE

TOMORROW

, February 19, 2021 @ 10am PST, 1pm EST, and 6pm London time. All classes are recorded so they can be viewed later.
WeAllSew Tutorial: How To Make Quilted Baby Booties
Too Cute to Boot!



Blankets, bibs, stuffed animals, there are so many gifts you can make for that person you know with a newborn in their life. But are any of those as adorable as a pair of little

Quilted Baby Booties

to put on their little baby feet?

Aynsley Campbell

at

WeAllSew

has a great tutorial to show you how to make some for that toddler on the go!



Our

FREE

Color Theory Class Starts Tomorrow!
Get The Stuff You Need For Your New Favorite Class!

Learn how to use color theory to select fabric in a real world quilt project where you put concept into action and see the immediate results by constructing blocks selected to create choices in value, texture, and color and seeing how changes to these elements affect your project.

The class begins

TOMORROW

Saturday, February 19, 2022

at 10:00 am PST. To participate, just visit our

Facebook Page

or

YouTube Channel

tomorrow at 10:00 am PST and look for the Live Video!
The Quilt Show Puzzle: Look At The Amazing Graphics
By accepting you will be accessing a service provided by a third-party external to https://thequiltshow.com/