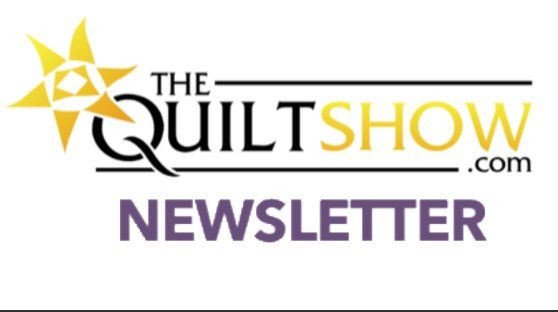 The Quilt Show Newsletter - April 27, 2022
A Treasure in Cincinnati, Sandra Leichner Shows How It's Done in Our Masterclass, Alex Talks with Pokey Bolton, Experimental Alex Hernandez, Know Your Battings Carry-Along Reference Guide, A "Colossal" Puzzle
Welcome to Wednesday - April 27, 2022
Featured Quilt -
Three Kings
by Bisa Butler
Travel is a wonderful thing. Just wandering around downtown Cincinnati after attending a wedding, we spotted this treasure hanging on the wall
at a place called the 21c Museum Hotel. It was a hotel where the whole lobby and surrounding area were covered with art. Take a look at the quilt we found across from the receptionist's desk.
Sandra Leichner Shows You How It's Done in Our Latest Masterclass

Bring Your Quilt to Life
Sandra Leichner

explains how she brings her quilts to life with fabric and thread, and how to create realistic-looking vines, stems, and tendrils with embroidery in our brand new Masterclass. Why should watch our Masterclasses? Just listen to what our members have to say about them:
"Always learn something whenever I watch these shows! Thank you!"

-

Mary Ann M.
"Love the show...... Always learn new things, plus easier way of doing stitches."

- Sandra S.

Learn from Sandra, and the other Handwork Masters, by watching

How to Do Handwork | Handwork Masterclass Part 2 - All About Stitches from Basic to Fancy

.
The Quilt Show LIVE: Support a Good Cause
Handmade for Ukraine Auction
Alex talks with

Pokey Bolton

about the Art Auction to benefit Ukraine through the World Central Kitchen. Hear the story and see some of the art to be auctioned. And, now is the chance for you to own one of Alex's quilts to support a good cause. She has a wonderful silk quilt in the auction.
Alex is
LIVE
TODAY
Wednesday, April 27, 2022 @ 10am PST, 1pm EST, and 6pm London time. All classes are recorded so they can be viewed later.
Textiles Talks: Experimental Quilting with Alex Hernandez
Learn About Alex Hernandez
Join San Jose Museum of Quilts & Textiles for a conversation with

Alexander Hernandez

, a textile and mixed media artist whose vibrant quilted works explore issues of gender, immigration, and cultural assimilation with dynamic and creative techniques. In this hour-long discussion, Hernandez will discuss his most recent work as the inaugural Artist in Residence at NUMU, highlighting his experimental approach to textiles with non-traditional materials and techniques such as spray paint, found objects, and accentuation of rips, stains, and loose threads.

In the Store -
Know Your Battings Carry-Along Reference Guide
by Krista Moser
Be In The Know As You Go



Batting can make or break your final quilt. Have you ever been unsure if you were choosing the right one for your project, or if you were using it correctly? Krista Moser's

Know Your Battings Carry-Along Reference Guide

will answer those questions and more, and it is small enough to take to the store with you!
The Quilt Show Puzzle: A Gargantuan Quilt
"

Colossal Scrolls"

by

Cara Gulati



Colossal Scrolls

from

Cara Gulati

was the quilt that started her 3-D Explosion series and is the cover of her book,

3-D Explosion: Simply FABULOUS Art Quilt Illusions

. Cara says,

"Playing with swirls and perspective really inspires me to make lots of great quilt designs."

The quilt is quite large measuring 110" H x 87" W and was completed in 2002.



See more of Cara's quilts in
How to Sew Curves with Cara Gulati | Machine Quilting Tips

.
By accepting you will be accessing a service provided by a third-party external to https://thequiltshow.com/