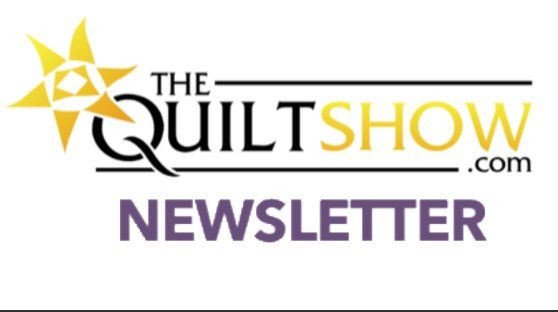 The Quilt Show Newsletter - April 24, 2022
A Fun-Loving Quilt, The Second Handwork Masterclass is Here, SAQA's 2022 Spotlight Auction is Coming, How to Make a Woven Basket with an Overlocker, Pick Up a Soothing Sashiko Project, A "Traveling" Puzzle
Sunday Smiles - April 24, 2022
Featured Quilt - Who's A Good Boy?
Tonya Littmann perfectly captures the imploring look of her golden retriever, Rusty, who is obsessed with tennis balls and wants to play. Take a look at Rusty's adorable face and how Tonya includes the beloved item in her quilt,
Obsession
. Tonya's quilt was

featured in the

Art-Whimsical

category at the

Houston International Quilt Festival

in

2016.
The Second Handwork Masterclass Is Here!
Learn All About Stitches from the Most Basic to Fancy
We're bringing you our second Masterclass on Handwork with Rosie de Leon-McCrady, Anna Bates, Sandra Leichner, Amy McClellan, and Meg Hawkey. Essentially, we're keeping you in stitches with a variety of artists who love handwork. From the classic basic stitches of redwork to the elegant stitches of sashiko, there's something for every hand to enjoy.
Learn from our second group of Handwork Masters in

How to Do Handwork | Handwork Masterclass Part 2 - All About Stitches from Basic to Fancy
, which debuts today!
SAQA's 2022 Spotlight Auction Begins Soon!
The Bidding Begins Next Week



Get ready for this year's SAQA Spotlight Auction, which takes place online from

April 29, 2022

through

May 7, 2022

. This virtual fundraiser features more than 320 small works made by SAQA members from around the world, a record number for this event. All proceeds benefit SAQA programs.

(Quilt Photo: Rolleiflex

by Margaret Lowers Abramshe)
WeAllSew Tutorial: How to Make a Woven Basket with an Overlocker
Basket Making By Way of Serger



Easter may be over, but that doesn't mean you still can't have a helpful basket or two around to store your non-egg-related items. So why not make try your hand at making a

Woven Basket

using Overlocker stitches.

Mary Beck

at

WeAllSew

has an informative tutorial perfect for Serger Month that'll have you making baskets in no time!
Pick Up a Soothing Sashiko Project
Enjoy the Meditative Properties of Handwork
We have all sorts of Sashiko Sampler projects to choose from in a variety of designs and colors. If you want to dip your toe in the Sashiko pool, there's no better place to start than with one of these.
The Quilt Show Puzzle: A Quilt That's On Vacation
"

My Traveling Journey

"

by

Brian Haggard



My Traveling Journey is a quilt made of all of Brian's vacations. Brian thinks a lot of vacation quilts can get a little "garish and bright", so he wanted something different for his and went with a sepia-tone color palette. Displaying locations such as Paris, Germany, Chambord Castle, Italy, and many of the other places that he's visited, the centerpieces actually use antique postcards from the 1800s to represent places that Brian had not traveled to yet when the quilt was made. He is proud to say that he has now visited all of the destinations featured on the quilt.



Learn from Brian, and the other Handwork Masters, in

How to Do Handwork | Handwork Masterclass Part 1 - From Piecing to Quilting

.
What's Happening Through These Doors?



And where exactly is this? Well, this was the TQS team taping one of our many exciting shows at

the Museum of Indian Arts and Culture in Santa Fe, New Mexico. The Quilt Show has traveled all over to tape our shows, from California to Texas, to even a battleship. You never know where we're going to stop next, so join us and follow The Quilt Show as they make more quilting magic happen!
By accepting you will be accessing a service provided by a third-party external to https://thequiltshow.com/