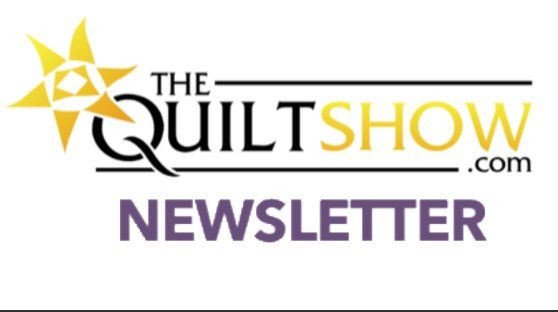 The Quilt Show Newsletter - April 18, 2022
See "Little Sprits", Sue Spargo's Masterful Stitches, Alex LIVE is Off for the Week, Make a Fabric Pint-Sized Basket, Prairie Pointers by Susan K. Cleveland, Memory Match, A Puzzle Full of Feathers
Newsletter - April 18, 2022
Featured Quilt - Remembering Those That Have Gone
Little Spirits

by Laura Gates was featured in the

Modern Traditionalism

category at

Quiltcon 2022

and is meant to honor those that have both passed on and those that have not made the journey yet.

Sue Spargo Stitches Along with the Handwork Masters
See Sue Sew with Her Hands



In our latest Masterclass,

Sue Spargo

talks about how she embellishes her wonderfully layered designs with both hand-dyed

and heavier threads, shows how to do couching to hug the edge of the appliqué, and so many different stitches that you'll run out of fingers counting them.
Alex is Off For The Week, But There's Still Plenty to Do!
What Project Will You Start?
Alex is taking the week off from her LIVEs to fulfill some other quilting duties (

she is quite the busy bee

), but that doesn't mean you have to stop being creative. In fact, it means you can start (

or finish

) a new project. You can stay up to date and catch up on her

Neutral Blooms

class or go back and start an older one like the

Basket Puzzle

quilt. Have some fun and keep on buzzin'.
WeAllSew Tutorial:

Fabric Pint-Sized Basket
Small Baskets to Hold Your Small Things
We all have big storage containers for our many irons, quilting mats, and other ephemera, but what do you have to hold your little everyday knick-knacks on your quilting table that you need at a moment's notice?

Erika Mulvenna

at

WeAllSew

has an easy tutorial for you to make

Pint-Sized Baskets

made from fabric so you won't have trouble finding those trinkets ever again!
In The Store - Prairie Pointer by Susan K. Cleveland
Susan Cleveland's Prairie Pointer Tool Should be in Everyone's Tool Kit
How would you like perfectly pointed prairie points? Get a

Prairie Pointer

! It's also great for mitered bindings, bag corners & lots more.



The Prairie Pointer includes detailed instructions for constructing solid and two-color prairie points, and includes cutting, stitching, and pressing information as well.
Jinny Beyer's Memory Match Game
Do you have a case of the Monday's? Well, Jinny Beyer's Memory Match Game is here to solve that!

It's always fun to learn new block names, and each Monday there are ten more new ones to learn. Play the game and find out what they are!
The Quilt Show Puzzle: Fancy Feathers Unfurled
"
Fine Feathered Fancy"

by Ann Petersen
Fine Feathered Fancy
was created by Ann in 2006 and measures 81" x 81". It is an original design with Feathered Star Blocks based on Marsha McCloskey's book,
Feathered Star Quilt Blocks 1,
and is designed to give room for lots of feather quilting designs. Ann's quilt was published in Quilter's Newsletter in April 2007 and has won many awards.
See more of Ann's quilts in
How to Piece Curves and Do Foundation Piecing with Ann Petersen | Adaptive Quilt Methods
.
By accepting you will be accessing a service provided by a third-party external to https://thequiltshow.com/