The Month 20 Legacy Quilt Club block from Ricky is Crosses and Losses.
Crosses and Losses is the 20th (and final) block for those participating in the
Legacy Quilt Club
. Be sure to download your free blocks now! Once this project ends, the patterns will not continue to be available online for free download.
- DOWNLOAD ALL PATTERNS BEFORE OCTOBER 31! -
Shown here in the Enchantment colorway, Crosses and Losses is the twentieth block for the Legacy Quilt Club. The Legacy Quilt features twenty blocks. A new block pattern is available for FREE each month.
Participants always SAVE 15% -
Use Coupon Code:
CROSSLOSS15
Good for all products at Ricky Tims Online Store.
Expires October 15, 2018
Click here to find previous blocks in the Legacy Quilt Club.
Crosses and Losses
A big thank you to Connie Ryle Newmann for her dedication over 20 months of providing the wonderful Laura Ingalls Wilder information.
In the early days of settling their homestead in De Smet, South Dakota, the Ingalls' first corn crop was scavenged by black birds. Laura tried to chase them away and Pa resorted to shooting the pests, but there were too many. The crop was devastated. Gathering as many ears of corn as they could, Pa encouraged Ma to make meals of the birds. Ma answered, "There's no great loss without some small gain." The Ingalls enjoyed blackbird pie fit for a king that evening, just as in the nursery rhyme!
~ Laura Ingalls Wilder,

Little Town on the Prairie

, Ch. 9 "Blackbirds"
Wilder referenced many proverbs and adages throughout her "Little House" books. "Thair was never a grit loss without som small vantag." Old Scottish Proverb, 1641 D. Ferguson, #1408 Oxford Dictionary of Proverbs.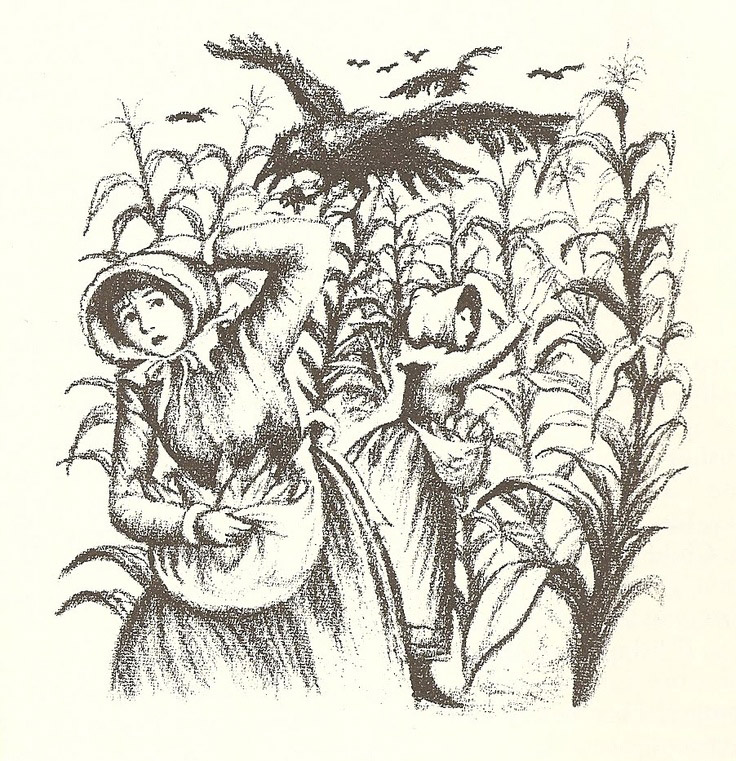 Illustration by Garth Williams
By the Shores of Silver Lake

, 1953 edition